With more than 10 members, Elitase R&D team dedicated to developing new products in order tosupport all customers worldwide. It helps Elitase stand out within the printing industry and provide the safeguard of printing techniques in long term. Licensed in 2005, we set up the R&D base with Qingdao Scientific and Technical University which has provided powerful chemical techniques. Thus Elitase has achieved great success in all kinds of special printing materials during the last decade.

Innovation, research and development in the academic-based screen printing industries
The Department of Technical Research leads wide-ranging R&D activities:
? Researches on basic technologies;
? Development of new products and technologies;
? Development of devices for reducing costs and ensuring quality
Elitase's R&D activities seek to develop basic technologies beyond the bounds of our business based on market expectations on product quality and cost. Elitase keeps improving existing equipments and coming up with new methods to use materials, so that we can deliver higher-quality products at reasonable prices.
Increased investments in research and development (R&D) and innovative use of technical and commercial know-how are necessary elements for enhancing the competitiveness of screen printing industries.
We are also advancing next-generation-oriented R&D by pursuing collaborative work with R&D centers, leading companies, and universities, both in China and abroad.
We are conducting research in three basic and elemental technologies:
Materials Research:
We are applying new process development technologies based on unique material design and commercial application approaches, and using sophisticated analysis technologies, to reach new frontiers in material development. We are confident that this will bring in new business opportunities.
Production Technology Research:
Aimed at opening new realms of knowledge in printing, coating, molding, and other core aspects of our businesses to develop optimal processes, we are working from the scientific perspective to build rational and reproducible processes to advance the implementation of printing, manufacturing and innovating solutions in our manufacturing lines.
Information Technology Research:
We are using our strength in digital technology to make advances in image processing and information distribution R&D, and applying results in printing fields as soon as possible.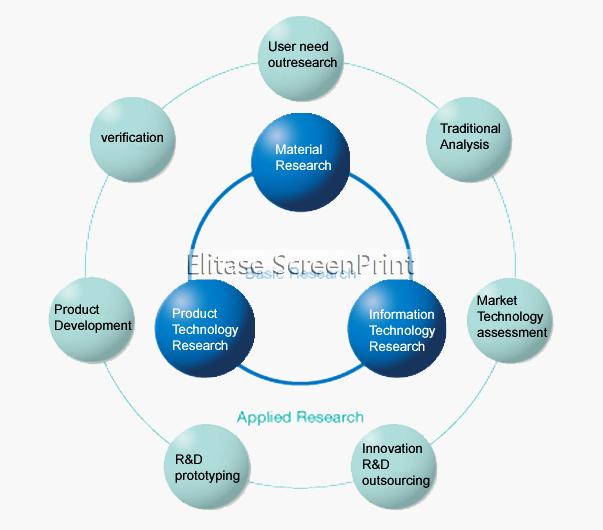 ELITASE provides a variety of R&D offerings and services, including traditional analysis on User needs, Technical assessment, Innovation R&D outsourcing, R&D prototyping, Product development and Verification.
Rapid Prototyping - ELITASE provides elaborate demonstrations of proposed user interfaces, architecture and system design to solve specific business problems. Prototypes can serve as groundwork for implementation of a complete and scalable solution. It could also be utilized for building business cases for the proposed solution.
R&D Outsourcing with unique expertise - ELITASE is involved in the development of innovative and complex services through sophisticated research initiatives with unique expertise and collaboration with our R&D partners.